Benefits of Automating the Packaging and Labelling Unit (PLU) Verification on Production Lines in Real-Time
Product labels across a broad range of packaging industries are subject to strict regulatory requirements and compliances. While some of these are straightforward, others are complex. Label compliance ensures a product label meets all the regulatory requirements. 
On the other hand, defects in packaging, can cause unnecessary damage to a brand's reputation and market perception.
With the advent of Industry 4.0, manufacturers are now moving from manual and semi-manual label and package verification to fully automated and AI-driven solutions.
Automated label and package verification on production lines not only assures quality control but also increases output.
Why is there a need for automation in package labelling?
Consumer product companies need to provide accurate product information on their labels. This is usually industry specific and highly regulated.
The problem increases if the company supplies its products to various countries as each country has its own set of packaging and labelling regulations. If the product does not adhere to a specific region's regulations, the company might incur losses as the product will have to be disposed of, destroyed, or recalled.
For manufacturers in highly-regulated industries such as food, medical devices, and pharmaceuticals, finding ways to reduce the possibility of a label mismatch from contents of the package is also a problem that needs to be addressed.
One effective and time-saving ways to prevent a label mismatch and package integrity is to automate the process of label verification. 
Automation helps reduce the risk of manual errors and avoid unnecessary compliance issues. There is an almost zero error rate when it comes to any automated label verification mechanism.
Approaches to Automate Package Labelling Unit (PLU) Verification on Production Lines in Real-Time
Let's take a closer look at some of the solutions available to automate the PLU verification on a production line in real time. 
1. Label Verification after Barcode Creation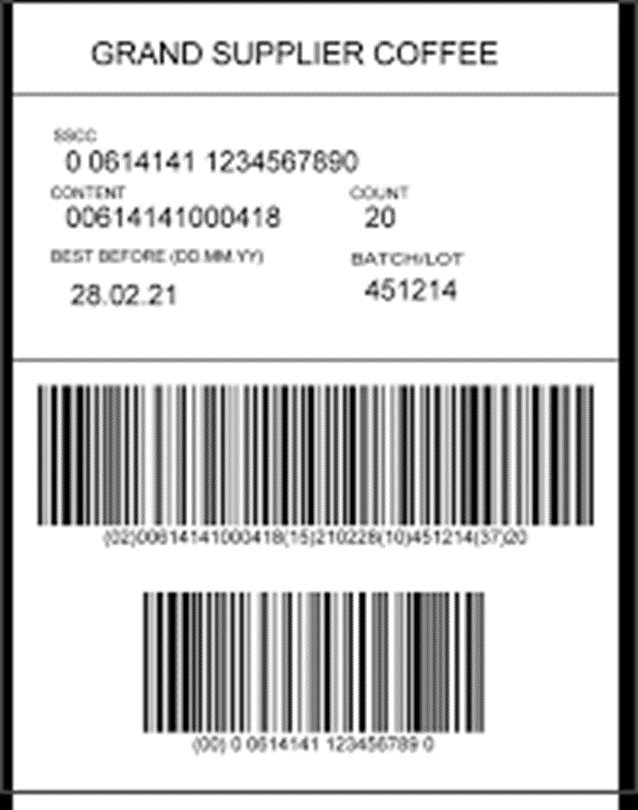 Example of a GS1 compliant barcode + label Image courtesy: gs1.org
Labellers must verify that the printed barcodes match the quality requirements as per GS1 standards.  Introducing a verification system at the production line reduces the cost of recalls by ensuring the printed barcodes and the labels match each product. These systems verify label data structure offline after barcode creation, offline after final artwork is created, and inline directly after printing or applying code to a product.
Let us take the example of pharmaceutical manufacturers to explain this problem further. According to Stericycle Expert Solutions' Recall Index for Q1 2017, 18.1% of the top pharmaceutical recalls were due to mislabelling issues. Although fines, brand reputation, and FDA warning letters are of concern to a pharmaceutical company, logical costs might increase significantly if a drug is recalled due to a printing error.
Label Verification Systems are the best way to tackle the recall of products due to a Label mismatch error. These systems verify label data structure offline after barcode creation, offline after final artwork is created, and inline directly after printing or applying code to a product
For more details on how Label Verification Systems work in a pharmaceutical company, you might want to read this whitepaper.
2. AI-driven Automation in Packaging
Artificial Intelligence (AI) can be used effectively in monitoring and verifying the accuracy of the PLU. There are however inherent challenges, and companies will need to carefully evaluate their readiness to adopt such a solution.
Label Accuracy and Verification
Photo by Possessed Photography on Unsplash
AI-driven tools and applications can be used to check the accuracy and verify the label on a large number of packages in less time. These tools use cloud-based infrastructure and image processing techniques to capture as well as verify the labels. 
AI label verification is done through machine learning. A virtual database containing distribution, sales, and storage-specific label parameters is created. The AI can then mark a product package as 'failed' if it does not meet the requirements set in the aforementioned label parameter database.
Additionally, a deep learning model can be used to detect defective products or packaging. 
Benefits of An Automated Packaging and Labelling Unit
Improved Quality Control
Machine Learning models are 'trained' (using test cases) to see 'errors' as humans do. With more and more training, these models can capture nearly 100% of the errors. 
As these AI-driven Quality Assurance systems work tirelessly, their introduction does not impact workers' shifts. When coupled with other automated equipment in the packaging process, this can lead to highly consistent packaging and improved quality control. 
Improved Production Speed
Automated packaging and labelling solutions can significantly improve production speed. They can implement several steps of the packaging process such as sealing and labelling into one step. These systems also improve the consistency of packaging and reduce the rate of errors that might occur in the case of a manual or semi-automated packaging process. 
Lowered Risk of Employee Injury
Work-related musculoskeletal disorders are common in manufacturing and packaging industries as employees perform repetitive tasks over long shifts. The recovery period from these injuries is long, thus reducing productivity. 
An automated system can replace the workers' need to perform repetitive tasks over a long period. Automated systems work tirelessly and require minimum human interference, thus reducing the chances of a work-related injury. 
Cost Savings
Automated Systems are almost error-free and can work tirelessly for a long time. As consumer demand increases and so do labour costs, companies are affected by the increasingly competitive labour market. 
AI-driven packaging and labelling systems are one-time investment solutions. As these automated systems work with very less or no human intervention, companies can hire workers only when necessary. 
Let's take the example of Swenco Limited, North America's leading manufacturer and distributor of components for the safety footwear industry. The company uses three types of labels – Product labels, shipping labels and process cards. Initially, they used to buy pre-printed labels for their products. However, this posed challenges every time they boarded a new brand or created new items. The model was not only rigid, but also resulted in lots of redundant labels.
Once they switched to an inhouse automated label system, they saved 50% on cost, excluding labour cost savings. They use the automated platform across 8 different job functions, providing a standardized way of working across all business aspects. Not only this, Swenco can now create a new label in 30 seconds instead of days.
Production Tracking and Monitoring
The human-machine interfaces of the packaging line automation systems are becoming a higher priority in the modern world. These interfaces make it easier for workers and production managers to access specific machine-related and production line-related information. This helps bring in a data-driven decision-making approach and reduce guesswork. 
Access to real-time data from any one area of the packaging line or the entire packaging process can help production line managers make informed decisions regarding packaging or labelling practices. 
Scaling for growth
Manual verification of labels is a time-consuming and costly task. Also, one must remember manual checking of labels is prone to errors. 
For an industry that produces a limited supply of products every quarter, manual label verification might seem like a suitable task. But what about large-scale manufacturers? It is certainly not possible to verify each label manually. Also, for industries that see seasonal growth in production, manual label verification might not be feasible. 
Scaling is one factor that comes into the picture when one talks about manual and error-free label verification. In an AI-driven system, label verification is done without human intervention. This also means, that with an increase in production, the cost of verifying labels remains the same. 
In Conclusion
The solutions available to help automate the PLU verification on the production line are many. These include Barcode verification and validation, AI-powered Label Verification, and AI-driven Package and Label Verification. 
It is important to evaluate your existing needs as well as consider future growth before you start shortlisting solutions for your company. Every solution is designed to address a particular problem and industry, and all aspects need to be considered. Failure to understand the mechanisms behind these deep learning algorithms can lead to a failed project. 
We at 3Frames can help tailor the solution as per your requirement and provide digital transformation solutions no matter which industry you belong to.
Click here to know more about our services and how we can help you.