The Role of Ethical Sourcing and Manufacturing in the Garment Industry
The key to being a part of a global village is access to information and a heightened awareness of factors affecting the world. The idea of ethical consumerism or green consumerism emerges from this awareness. 
With the world focusing on sustainability and reduced carbon footprint, brands across industries, including fashion and garments, strive for a greener supply chain. Today's conscious customer not only focuses on quality or endurance, but also considers the environmental impact of the brand, ethical alignment, attitude towards fair treatment, fair pay, the safety of employees, and sustainability.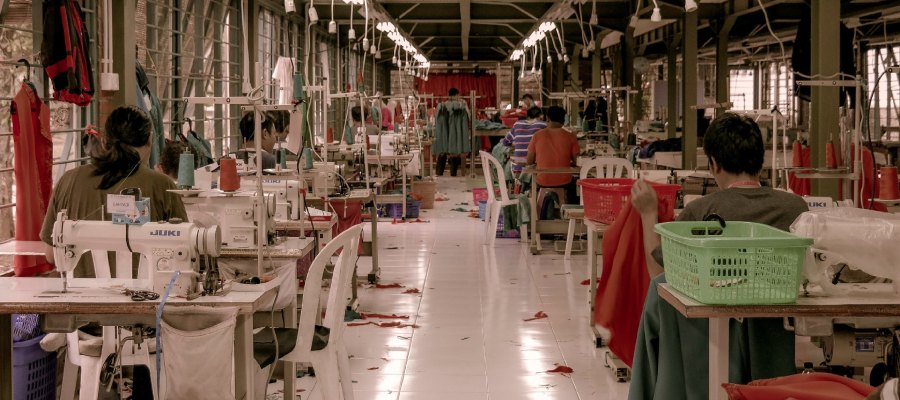 A survey conducted by Fairtrade Foundation in the UK (Sustainable and Ethical Cotton Sourcing Report, 2014) found that while 82% of teenagers believed that brands must be more cognizant of their ethical responsibility, only 42% trusted them to be doing so.
Ethical Sourcing
Patagonia is world-renowned for its effort to invest in and promote green and sustainable fashion. Their entire supply chain has been revised to follow ethical sourcing, reducing the environmental impact of production. They have taken a step ahead by discouraging customers from buying new products by restoring existing ones and selling them through their 'Worn Wear Program.'
Marks and Spencer (M&S) was the first brand of its kind to publish Global Sourcing Principles – a set of standards for ethical sourcing. The principles are updated regularly, and the company monitors and handholds its suppliers to ensure that these standards are met. 
What then is Ethical Sourcing and why is it so important? Ethical sourcing ensures that products are manufactured in a safe and hygienic environment, by workers who are protected, not discriminated against, paid fair wages, and that the labor laws are abided. By focusing on ethical sourcing, brand leaders like Patagonia and M&S gain respect and set examples, solidifying their position ahead of competitors. 
Gone are the days when a quicker turnaround time and superior quality of the garment were enough to keep one ahead. The consumer today has a keen eye on the responsibility index of a brand before buying.
Indian Garment Industry and Ethical Sourcing
The USA and the UK have led the conversation on ethical sourcing. Being socially compliant is a necessity for any global brand today. The same applies to Indian garment manufacturers who wish to strengthen their exports. 
The chief purchasing officer survey of McKinsey (2019) has rated sustainable sourcing at scale to be a non-negotiable factor in the fashion industry. With the pandemic bringing an increased focus to the environmental impact on every business, the garment business cannot stay far behind. Reflecting the points of view of the 64 participants (who collectively are responsible for sourcing more than $100 billion worth for the industry), the survey states that for a majority, ethical sourcing is already on top of their list of priorities. 
With the discussion around environmental, social, and governance (ESG) frameworks gaining ground in India like in the world, for any garment manufacturing unit to remain relevant, is it important to be socially compliant. This compliance is measured by the SA8000 Standard, a globally accepted social compliance measure that is aligned with international labor standards. The SA8000 Standard checks on grounds of Child Labour, Forced or Compulsory Labour, Health and Safety, Freedom of Association & Right to Collective Bargaining, Discrimination, Disciplinary Practices, Working Hours, Remuneration, and Management System.
For any garment factory to flourish, it is essential to have a compliance certificate that can be earned by conducting a social compliance audit on these nine factors.
Ethical Sourcing and QMS 
Ethical sourcing is a non-negotiable quality standard for the garment manufacturing industry today, the basic element of which involves supplier quality management. Suppliers must formally accept the responsibility of adhering to quality assurance standards. This in turn indicates a set procedure of checks and balances to ensure that these standards are met. 
Failing to meet these standards would result in a loss of business for garment manufacturers. Hence the process of internal social compliance audits is put in place to align the company with quality standards. These audits report facts and help continuous quality monitoring. A robust and comprehensive quality management system (QMS) ensures that the manufacturing unit adheres to ethical sourcing, and hence is socially compliant. 
The focus of the QMS is on the three P's – Prevent, Predict, and Prescribe. Following this approach ensures that you are one step ahead, identifying defects and preventing them from being repeated, predicting and correcting all potential and current anomalies, and, maintaining checks and balances to keep the entire project in line with the set quality standards of achieving ZDI.
The only QMS to provide a sourcing module, Quality360 attends to one of the most integral aspects of the garment and fashion industry. The solution helps manage quality throughout the entire process, from designing to sourcing raw materials, prototyping, manufacturing, and delivery. This ensures a reduction in wastage, costs, and time utilization. The holistic focus from end-to-end ensures that your products align with international social compliance standards.
Click here to know more about Quality360 and how it can help elevate your garment manufacturing business.